Posted: 14 Feb '18
Who Should Get Fall Rescue & High Angle Rescue Training in Edmonton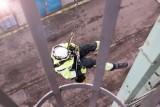 Although they're separated, the content of the "Fall Rescue" & "High Angle Rescue" training courses are similar - as both focus on educating students on how to rescue a fallen worker who may be suspended. In many scenarios, emergency responders are unavailable for a quick response and the fallen individual must rely on their co-workers for rescue. MI Safety's fall rescue & high angle rescue training in Edmonton includes general rescue theory, lightweight rescue equipment training, and how to quickly and safely rescue a co-worker with minimal assistance.
In addition to those in the oil sands, the fall rescue & high angle rescue training course is available in eight, sixteen, and twenty-four-hour options that can be catered to your industry - such as telecommunication specialists, ski lift operators, and anyone who is tasked with climbing lift towers. If you operate within an industry that deals with heights, you should prepare yourself for unforeseen accidents with fall rescue & high angle rescue training.
Why is High Angle Training important?
While lanyards save lives, a suspended worker often only has a few minutes before suspension trauma can prove fatal. Unfortunately, most Canadian worksites do not have in-house rescue teams and there often isn't enough time for the fire department to respond and rescue the suspended worker. In response, MI Safety is proud to offer a course designed to address this issue. We will also review your equipment and cater the lesson plan due to the student's industry requirements.
What will I learn in the Fall Rescue & High Angle Rescue Training?
As with most MI Safety courses, our classes feature a classroom component as well as a hands-on practical component. Our courses are available in 8,16, and 24-hour options. While all students will gain a fundamental understanding of the importance of fall prevention and the importance of prompt rescue in the event of an accident, the longer courses will familiarize students with ropes and other hands-on safety processes. MI Safety offers this course at our Devon facility where we have three towers - ranging in height from 70' to 174' - that allows us to recreate most rescue scenarios.
Our Course also features:
Classroom Rescue Theory
Rescue Planning and Quick Response
How to Rescue via Ropes and Knots
Controlling and maintaining descent devices
Practicing Rescue Scenarios
MI Safety is Edmonton's go-to choice for fall rescue and high angle safety training. Our comprehensive classroom training combined with our hands-on rescue training ensure that your employees are equipped to react and save lives should the unthinkable happen. For more information on fall rescue and high angle rescue training in Edmonton, contact MI Safety today!
REQUEST INFO ON OUR COURSES