Posted: 26 Jan '17
Specializing in Fall Protection for Rig Work and Fall Rescue for Rig Work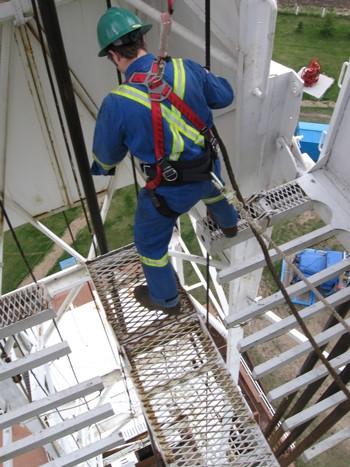 It has been three years since my accident; a lot of things are different now. I've had to make many adjustments in my life to be able to cope with the permanent physical impairments. I was thirty at the time of the accident, making me thirty-three now; but feeling like I'm going on fifty-five. My injuries, a result of falling forty feet, have left me with a two foot scar around my torso, fractured and fused vertebrae, blown-out spinal discs, as well as removed and pinned ribs. I am in fact, lucky to be here to write this letter.
Since the accident, I find bending over to pick up my shoes harder than pulling back eight inch collars before I was injured. I am not able to change a flat tire on my car, stand in one spot long enough to wash dishes or pick up my children without suffering for it later. However, an accident like this causes more than physical pain; I feel like my character is also being challenged.
This is just a small excerpt from a real-life case. He goes on to say how he would not wish his injuries on his worst enemy and that he should have taken the time to use fall protection. In Alberta, British Columbia and Saskatchewan workplace legislation requires that an employer ensures workers are protected from a fall from a permanent or temporary structure if the worker might fall more than 3 metres (10 ft) or if they might fall less than 3 metres (10 ft) with an unusual possibility of injury upon a fall. Additionally, workers must be protected from a fall of more than 1.2 metres (4 ft) from permanent structures by means such as guardrails, travel restraint or fall arrest, in that order.
In today's world it is more common for safety procedures to be in place, be supervised be trained. However, statistics continue to show a rise in fall related injuries and deaths. Part of this is due to lack of understanding on the part of employers and/or employees and some can be attributed to incorrect use of equipment. Of course, wearing a harness correctly and ensuring it is properly inspected and safe is one obvious, and important, answer. Another important reason can be failing to properly consider Total Fall Distance (TFD) resulting in an incorrect calculation of minimum Clearance Required (CR).
Fall Protection and Fall Rescue, whether is is OSSA Fall Protection, Enform Fall Protection for Rig Work or Enform Fall Rescue for Rig Work is important training. All of these courses have a three year expiry date on them. This is for your benefit! Each time we take the course we should walk away more confident of our abilities, more prepared for an emergency, clearer on legislation and regulations and with a better chance of saving our own lives or someone else's. As I'm sure you've told your children, practice makes perfect, and that's what re-certification every three years provides you with.
When choosing your training provider try to avoid choosing simply because you need the course for work on Monday and today is Friday. If you've been in the industry but have been off, you know what courses are required - take them now so you have them when you need them! If you've never been in the industry do some research into what will be required so that you can build your resume. This forward planning gives you the chance to choose a training provider based on their knowledge and reputation. And here at MI Safety we have built ourselves a reputation as industry leaders.
REQUEST INFO ON OUR COURSES