Posted: 13 Feb '17
Safety Equipment Rental & Sales in Alberta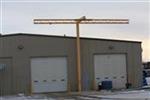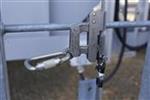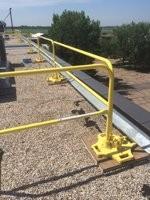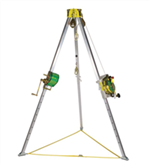 MI Safety has a number of safety equipment solutions for your permanent or temporary worksite. Safety equipment can be costly initially, which is why we developed our excellent rental program to help you with those temporary safety equipment needs. We're also an excellent resource to take care of your permanent safety equipment purchases.
Horizontal Lifelines (HLL)
Horizontal Lifelines allow your workers to move horizontally and are ideal for environments where there is no other anchor options available at shoulder height or higher. They are suitable both as fall protection and fall arrest. Depending on your site's needs we may recommend a commonly available system, whereas other times your system may require some customization. A simple needs assessment will determine the best solution for your situation. MI Safety is certified by both MSA and Capital Safety to install Horizontal Lifelines. All of our installers are also certified instructors, saving you time and money. While they are on your site completing the installation a training session can be scheduled with your workers to ensure they are using the system properly and know how to conduct the pre-use inspections on it. If your system is designed to be permanent MI Safety can take care of your annual inspections.
Vertical Lifelines (VLL)
A Vertical Lifeline is used mostly in outdoor locations. The Galvanized or Stainless Steel cable and tensioning systems allow them to withstand wind, rain, cold and heat. Generally, a Self-Retracting Life Line is recommended in high use scenarios and the VLL are best for infrequent use, such as ladders, on vessels, buildings, tanks, towers and stacks. Vertical Life Lines will limit fall distances and greatly reduce swing fall. Falls will typically be reduced to 18" or less. Vertical Life Lines need annual inspections where they are checked for wear, fraying and ensuring proper tension.
Guardrail Systems
Guardrails are your first choice before resorting to Fall Arrest. They will help prevent a fall from ever happening. We can help you with both portable and permanent handrail systems, including systems that require welding and customization. We also offer solutions that are suitable where hot work is not an option and roof material and integrity needs to be considered. If your guardrail system is going to be highly visible or is part of a new build we can help by designing and installing a system that takes your buildings architectural design into consideration.
Safety Tripods and Rescue Winches
We are able to provide 8' tripods rated for 5000lb or 10' rated for 10,000lb. Typically, safety tripods and rescue winches rent for $125/day. We are also able to supply SRLs, ropes, pulleys or other equipment that you may require to perform a rescue. Contact us to determine your needs.
REQUEST INFO ON OUR COURSES