Posted: 23 Feb '16
Preparing for the Worst - Fall & High Angle Rescue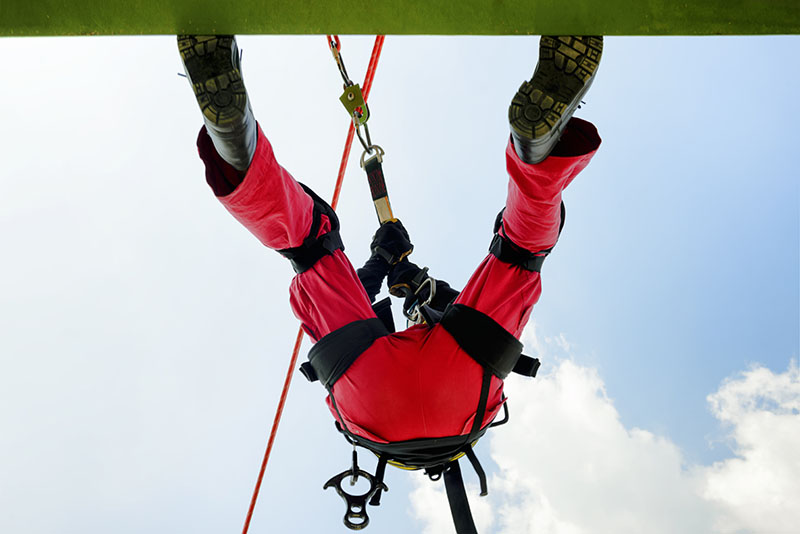 Fall and high angle rescue is something that both employers and employees hope to never have to utilize while in the workplace; however, it is imperative to overall workplace safety that workers are prepared for such rescues in case they do occur. This is even more important at work-sites in isolated areas, where they can't rely on local emergency services to respond quickly enough to a worker who has fallen and is suspended midair.
While OSSA has no specific regulations about how quickly an employer must respond to a worker fall, recent studies have shown that suspension for 12 minutes proves to have adverse health effects, with any suspension over 30 minutes being fatal. Therefore, every company needs a fall and high angle rescue plan as part of an overall fall protection program.
Practice Doesn't Just Make Perfect - It Saves Lives
Re-enacting various fall rescue scenarios is an essential part of planning ahead for rescue situations rather than leaving such crises up to chance. The pre-planning process should include decisions about safe places for rescue, whether an employee would be raised or lowered to safety, and how various work site obstructions could block a potential rescue.
Employees should also simulate the physical steps involved in performing a fall or high angle rescue. Going through the motions will help your team identify what works and what doesn't. Special events like safety days or safety picnics can be a great opportunity to raise awareness for fall protection, boost employee morale, and demonstrate to employees that the company cares about workplace safety.
Most of the major safety equipment manufacturers offer fall and high angle rescue safety training courses. Rescue training programs are also available from rescue training companies, such as us.
Be The Man with a Plan
There are many components that go into making an effective fall and high angle rescue plan. When creating a rescue plan, consider these questions:
Who will perform the rescue?
Where will the rescue be performed?
How can we perform the rescue in this location?
What equipment will be needed?
Once you've answered the above questions, specific steps can then be outlined for your plan. A few important things to include in your rescue plan are:
The type of rescue system
Equipment
Location of rescue anchorages
Required steps to perform a successful rescue
Even the most safety-conscious employer's rescue plan will be ineffective if it isn't practiced and implemented. Having a coordinated fall and high angle rescue procedure in place will ensure your employees are properly trained and prepared to perform a rescue if necessary.
To ensure that your workers are prepared in case a fall and high angle rescue situation occurs, enroll them for safety training in Edmonton. Contact us for more information or to schedule a Fall and High Angle Rescue Safety Training Course with us.
REQUEST INFO ON OUR COURSES